The Congestion Management Process (CMP) is a management system and process conducted by the Ocala Marion TPO to improve safety and reliability of traffic operations on the major roadways of Marion County. The CMP includes strategies to reduce travel demand on specific roadway locations and recommended improvements to the overall transportation system.
The TPO is required by Florida Statute (339.175) to prepare a CMP as part of its ongoing planning activities. If the 2020 U.S. Census results determine the TPO is part of a Transportation Management Area (TMA), the CMP also becomes a federal requirement (U.S. Code 23, 450.322). A TMA is an urbanized area with a population that exceeds 200,000.
On October 26, 2021, the TPO Board adopted the Congestion Management Plan, which outlines the policies and procedures and state of the system congestion management process for Ocala/Marion County. The CMP also contains an online interactive map and a comprehensive roadway network database table for access by the public.
Congestion Management Plan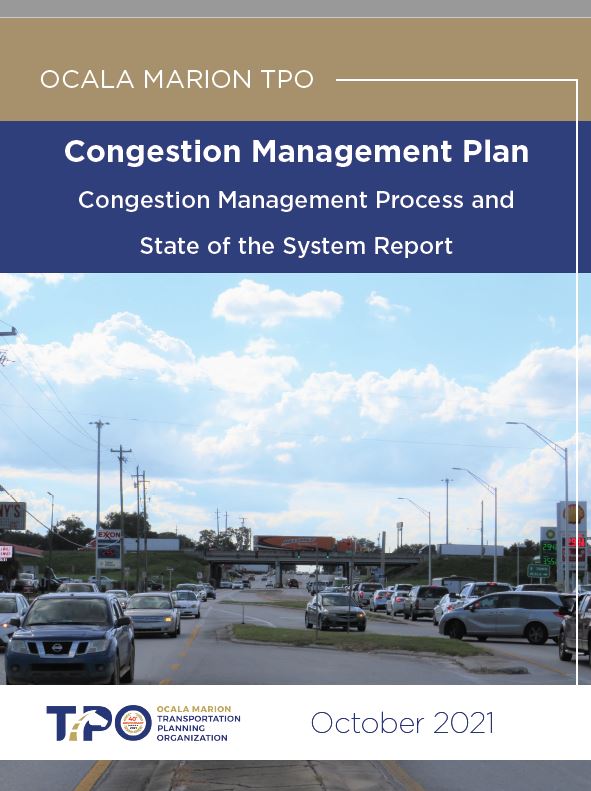 Congestion Management Plan Fact Sheet
View the Congestion Management Plan Fact Sheet
Download a PDF of the Congestion Management Plan Fact Sheet
Congestion Management Plan
View the Congestion Management Plan
Download a PDF of the Congestion Management Plan
2023 State of the System Report
View the 2023 State of the System Report
Download a PDF of the 2023 State of the System Report
Congestion Management Plan Interactive Map
Congestion Management Plan Online Map
Congestion Management Storymap
Congestion Management Plan Appendix
View the Congestion Management Plan Appendix
Download a PDF of the Congestion Management Plan Appendix
Congestion Management Plan Roadway Database