DRAFT 2045 LONG RANGE TRANSPORTATION PLAN FEEDBACK
The Ocala Marion Transportation Planning Organization (TPO) has completed a DRAFT of the Long-Range Transportation Plan (LRTP). The LRTP is the foundational planning document that guides the TPO in all its projects, plans, and priorities for the future. It lists all of the TPO's goals and objectives, including which revenues will be utilized to fund the projects listed in the LRTP. The TPO is welcoming any and all comments on the LRTP until November 6th as it is currently in DRAFT form. Additionally, the TPO will be holding a public hearing on October 27th at 4:00 p.m. in the Marion County Commission Auditorium located at 601 SE 25th Avenue, Ocala, FL 34471 for anyone who wishes to provide their comments in person, to the TPO Board. The document can be found at the following website https://ocalamariontpo.org/plans-and-programs/long-range-transportation-plan-lrtp/ or you can call the TPO office at (352) 438-2630 to request a hard copy. If you have any questions or concerns please contact the TPO's Project Manager Derrick Harris at derrick.harris@marioncountyfl.org or (352) 438-2632.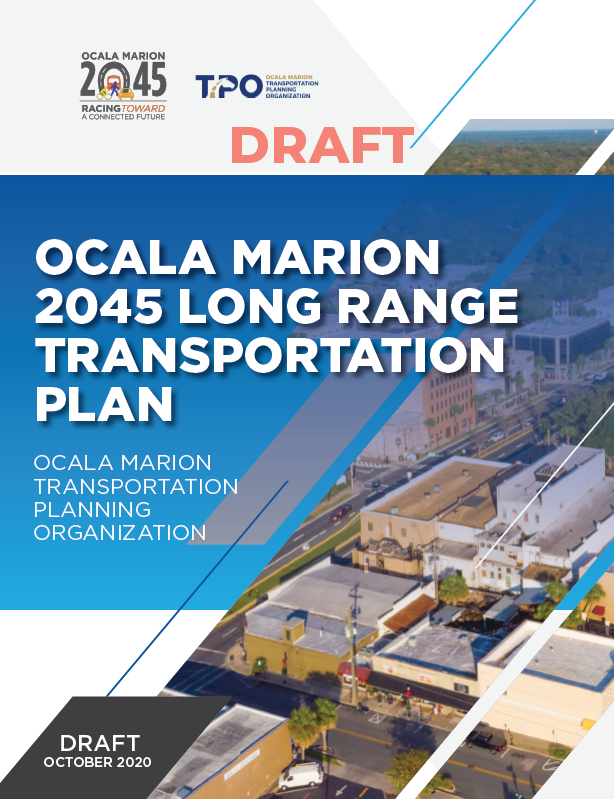 2045 LRTP
The Long Range Transportation Plan (LRTP) outlines the vision for transportation in Marion County for the next 25 years. The LRTP considers all modes of transportation, including roadways, transit, bicycles, pedestrians, freight and aviation. The goal of the LRTP is to consider how best to produce a safe, connected and efficient transportation system.
The document describes the current status of transportation in the region and documents its anticipated growth. Based on this data, the LRTP includes an analysis of future needs and potential solutions. The solutions incorporate a variety of considerations, such as funding availability, safety, and subsequent environmental, economic, and social impacts.
To ensure the recommendations are financially feasible, all projects included in the plan are linked to specific funding sources. Additionally, the LRTP is updated every five years to remain congruent with changes in population, travel demand and emerging technologies, and to meet state and federal regulations.
In May of 2019, the TPO began developing the 2045 LRTP. The 2045 LRTP must be completed and approved by the TPO Board no later than November 2020.
Visit the 2045 Long Range Transportation Plan website at: www.ocalamarion2045.com
2040 LRTP