The 2045 Long Range Transportation Plan (LRTP) outlines the vision for transportation in Marion County for the next 25 years. The LRTP considers all modes of transportation, including roadways, transit, bicycles, pedestrians, freight and aviation.
The overall Vision of the 2045 LRTP is to "Develop a safe, convenient and accessible multimodal transportation system that supports a vibrant economy, preserves existing assets, and protects the natural environment."
The LRTP document outlines the current status of transportation in Marion County and the anticipated future growth and development. Based on this information, the LRTP includes an analysis of future needs and potential solutions. The solutions incorporate a variety of considerations, such as funding availability, safety, and subsequent environmental, economic and social impacts.
To ensure the recommendations are financially feasible, projects included in the plan are linked to specific funding sources. Additionally, the LRTP is updated every five years to remain congruent with changes in population, travel demand and emerging technologies, and to meet state and federal regulations.
The TPO Board adopted the 2045 LRTP on November 24, 2020. The 2045 LRTP was amended on November 29, 2022.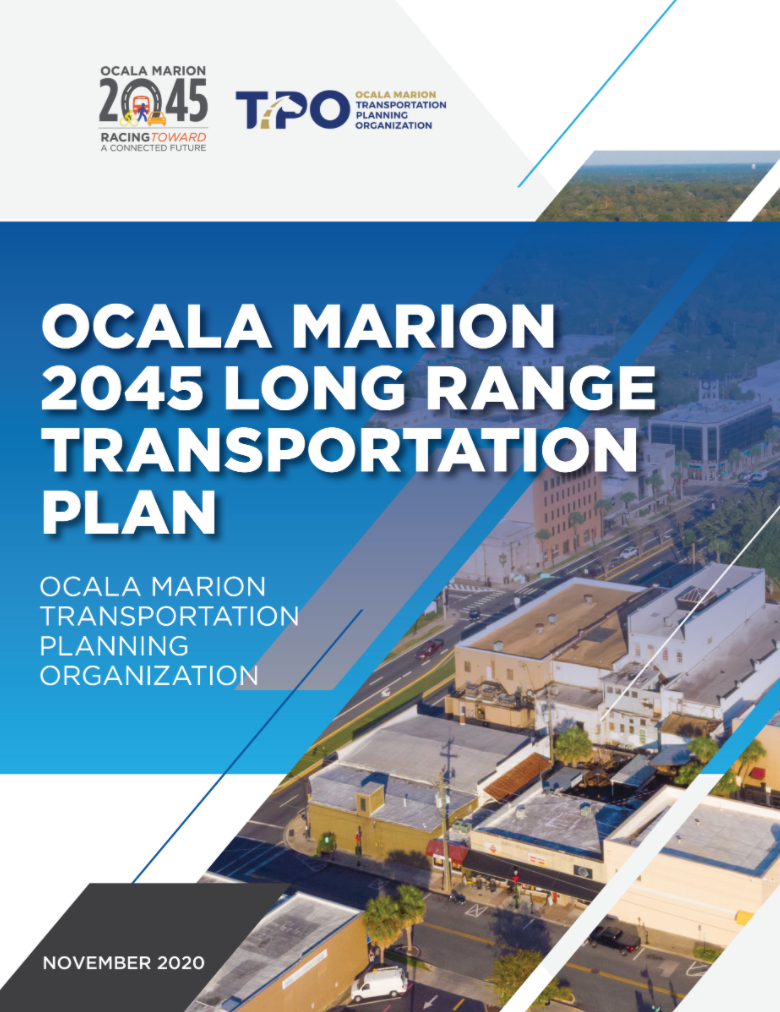 Executive Summary
View the 2045 Long Range Transportation Plan (LRTP) Executive Summary
Download the 2045 Long Range Transportation Plan (LRTP) Executive Summary
Plan Document
View Amendment #1 of the 2045 Long Range Transportation Plan (LRTP) 
Download Amendment #1 of the 2045 Long Range Transportation Plan (LRTP)
View the 2045 Long Range Transportation Plan (LRTP)
Download the 2045 Long Range Transportation Plan (LRTP)
Appendices
View the 2045 Long Range Transportation Plan (LRTP) Appendices
Download the 2045 Long Range Transportation Plan (LRTP) Appendices
2045 LRTP Interactive Map
View the 2045 Long Range Transportation Plan (LRTP) Online Map
Archived Plans
2040 LRTP
2035 LRTP
2025 LRTP